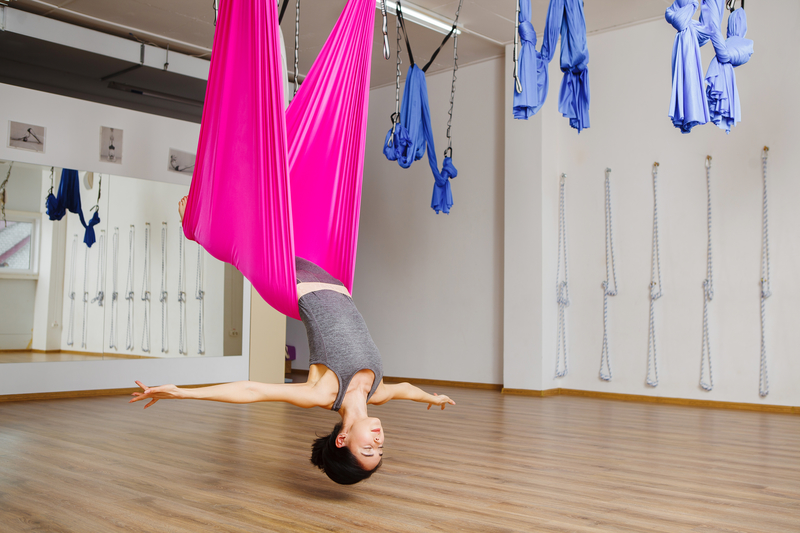 What is Aerial Yoga
Aerial Yoga is quickly becoming a popular body-healing modality, and even better, the techniques are not exclusive to any limitations. This class uses suspension and weightlessness in a special swing as a platform to encourage muscular definition and flexibility. The platform quickly caught on for those seeking a combination of stability and ability.
Most classes, like the ones held at Brickhouse Cardio Club in Ellicott City, Md, last upwards of 60 minutes. During this weightlessness, the techniques are enhanced with objectives of tonicity, postural correction, postural re-education, flexibility of the spine, muscle definition, and deep relaxation. You strengthen your legs, knees, and ankles and stretch your hamstrings, adductors (groin muscles), lats (latissimus dorsi—back muscles that help stabilize your spine), while toning your abdominal muscles. You almost re-create the actions of Pilates, with the help of the swing.
Who can do Aerial Yoga
The aerial postures are suitable for everyone, and as you become more accustomed to Aerial Yoga, your body becomes more physically demanding. Students often find they can perform more acrobatic postures, using the body's own weight as a tool. The added value is the enhanced stretch, strength, elasticity, and body awareness.
One of the big aims of Aerial Yoga is to help you feel more stable. Indian Yogi's say unlike other yoga methods on the ground, the body in weightlessness ceases to be a weight, or a burden, and becomes a habitat of well-being and creative experimentation. At-a-glance, Aerial Yoga helps to:
· Strengthens and redefines the musculoskeletal system
· Stretches the spine: decompresses the vertebrae, "oxygenates" the spinal cord
· Contributes to good lymphatic and circulatory drainage
· Reactivates circulation
· Regenerates and strengthens the joints
· Reactivates the digestive and respiratory systems
· It is extremely useful in rehabilitation
· It is emotionally relaxing
One thing that has become obvious at the Brickhouse Cardio Club in Ellicott City, Md is that with Aerial Yoga, students quickly recognize, understand, and overcome limitations, and place far more emphasis on the physical and emotional development of the body.
Click on this link to find out more: Visit our Website