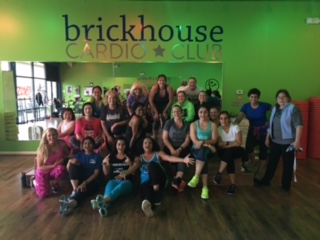 The perfect fitness center means different things to individuals, and that is what we try to achieve at Brickhouse Cardio Club. When you are wondering, "where can I find the best fitness locations near me in Ellicott City?" we are a sure bet. Our slew of programs are tailored for every kind of fitness enthusiast. Are you doing Zumba for the first time? Do you wish to work with qualified yogis? Do you need help with fitness goals? The Brickhouse Cardio Club is the solution.
Enjoy our Beautiful Studio
You are searching for "fitness locations near me" because you have a clue about the benefits these centers offer. We are the premier fitness studio in the area. We have beautiful wood floors and a rocking sound system. We offer Zumba every day of the week :). Zumba is so much fun you don't even realize you are working out. It is exercise in disguise.

Workout with your friends
The group classes are another reason for a person to start browsing fitness locations near me directories. Most people find it less challenging to work out when they have others with similar fitness goals. Motivation goes a long way when you have a Zumba class with amazing instructors and wonderful music.
Why Come to Us
We make getting fit FUN! At Brickhouse Cardio Club, we offer certified instructors in different formats, including yoga, Zumba, and Pop Pilates. We aim to guarantee that clients receive professional assistance when working on their fitness objectives. The instructors will ensure that when you start a fitness class, you know the expectations and what it takes to get amazing results. If group training is not your style, then we have personal training as well.
We don't focus on just the body but the mind and soul as well. We design holistic workout programs to maintain fitness and help lower anxiety and depression.
Improve your Health
Improve your heart health with cardio classes; build toned abs through aerial yoga, RIPPED, and Pop Pilates, and relieve stress through yoga. When considering your fitness locations near me options, visit the Brickhouse Cardio Club site to see how else we contribute to healthy living.
Click Here for more Info