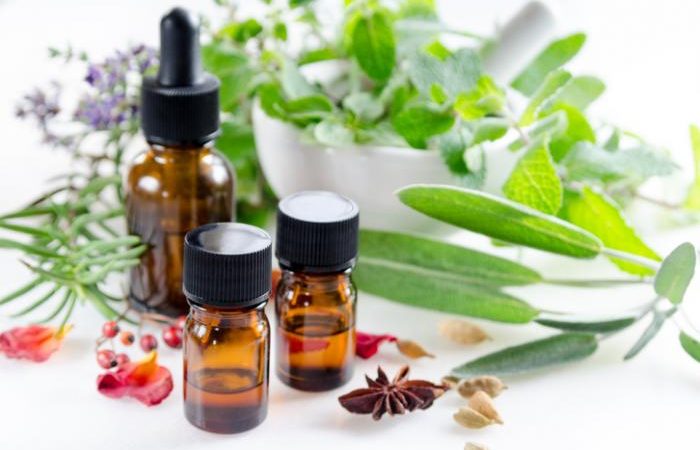 Essential oils are the essence of a plants fragrance.  They are known as "essential" oils because they are the "essence" of the plant!  They are extracted from natural plant sources and then concentrated into the form of an oil.  Essential oils are typically taken from a plants flowers, leaves, wood, bark, roots, seeds, or peel.
There are tons of essential oils available for consumer use!  Typically, they are used for aromatherapy.  You can add essential oils to a carrier oil for use during a massage, or simply put a couple drops into a diffusor to change the atmosphere of the room.
Here is a list of the common essential oils and some of the benefits of using them:
Cinnamon

– can be used to help clear the lungs and breathe easier
Sassafras

Allspice

Juniper

Cannabis
Chamomile

– mild calming, can be used when stress begins to build
Clove

– very grounding, great for using during meditation
Lavender

– very calming… great to use just before bed for a good night's sleep
Orange

– very energizing!  great for use in the morning, or for an afternoon pick-me-up
Plumeria

– beautiful scent, good for use as a homemade perfume
Ylang-ylang

– considered an aphrodisiac
Basil

Bay leaves

Buchu

Common sage
Eucalyptus

– used for cleaning, disinfecting, and sometimes even vermin control
Lemongrass

– can be used as an all-natural insect repellant!
Melaleaca

Oregano

Patchouli
Peppermint

– can be used to increase mental clarity and diminish brain fog
Tea tree

– commonly used to treat a multitude of skin conditions, including cuts and burns
Thyme

Tsuga

Wintergreen

Bergamont

Grapefruit
Lemon

– energizing and refreshing! great for use first thing in the morning
Lime

Tangerine

Benzoin

Copaiba

Frankinsense

Labdanum
Myrrh –

very grounding, perfect for meditation or yoga
Galangal

Ginger

Valerian

Anise

Celery

Cumin

Flax
Nutmeg

– traditionally used for illnesses with the digestive or nervous system
Agarwood

Camphor

Cedar

Rosewood
Sandalwood

– mainly used in cosmetics for its pleasant aroma!
Interested in trying out some essential oils?  We are now selling them!  Check out our products at youngliving.com and send your order to info@brickhousecardioclub.net.